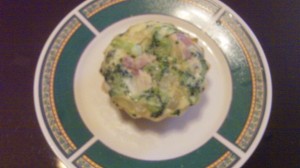 One of my worst problems with eating healthy is making sure to get my first meal of the day in early.  My typical routine is this: I get up, turn the coffee on then I check my email and phone messages. From there I'll often get so caught up in my day, I realize that 4 or 5 hours have passed and I've not eaten anything yet.
To overcome this bad habit, I've replaced it with a new habit:  having ready-made breakfasts on hand that are less than a minute from fridge to table.
One of my current favorites is what I call my "guilt-free quiche."  It has all the flavor of normal quiche without all of the calories and fat. It takes about 10 minutes prep time to make 4-8 servings and then 15 minutes in the oven. I've never tried freezing it, but I think it would hold up pretty well so if you want to double or triple the ingredients below and put extras in the freezer.
Ingredients
1 small cooking onion (about 1.5 ounce)
2 large whole eggs
1 3/4 cups egg whites
4 slices turkey bacon
1 1/2 cups broccoli
Low-fat cooking spray
Cooking Instructions
Spray frying pan with cooking spray and turn on medium-high heat.
Preheat oven to 350 degrees Fahrenheit.  Put 4 slices of turkey bacon in frying pan.
Chop the onion into small pieces.
Flip the turkey bacon over.
Take out large muffin pan (I use mini-Bundt pans) and spray.
Remove turkey bacon from frying pan and put on a plate lined with a paper towel. Put another paper towel over it.
Spray frying pan with cooking spray and add chopped onion.
Chop broccoli.
Take out a large bowl.
Slice turkey bacon into slivers and put in bowl.
Put chopped broccoli on plate and microwave for 30 seconds.
Add the 2 whole eggs, egg whites and onion to bowl.
Add broccoli to bowl.
Whisk mixture.
Pour the mixture into the muffin pan – evenly distributing.
Place in oven for 10 minutes if you are making 6 to 8 quiches or 12 minutes for 4 quiches.
Remove from oven and test to see if it is cooked by sliding a knife in it. If it isn't cooked yet. then there will be some liquid on the knife.  Return to oven for another minute or two if it's not ready yet. The quiche should have a bit of brown on the top when done.
Calories
The recipe as above works out to approximately 500 calories. If you make 4 servings, that is 125 calories each.
Serving Ideas
I'll heat one in microwave on 80% power for 1 minute. I'll have some salsa with it. Sometimes I'll have a small whole grain tortilla and put the quiche inside it. Often I'll have a piece of fruit with it.
If you need more calories, you can also add some cheese on it when reheating.
Note: you do not want to put any kind of baking pan in the microwave! Make sure to use microwaveable dishes.
Comments
comments