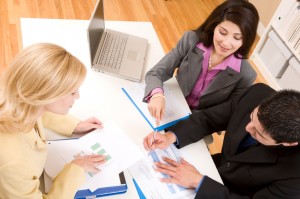 This is another installment in my "free versus paid" series. I also have a live training called "Converting Free to Paid" that will help you get a better handle on free versus paid.
In previous posts in this series, I've shared "7 Reasons Why I Can't Do Free" where I shared how being established as a professional and with limited time I can't provide unpaid assistance and then in "How to Give and Get Paid" I looked at how to give knowledge/expertise away via blogging and other content in order to generate direct income. Depending on where you are in your career/profession, there may be other times you may want to work for free. In this post, I'll address 8 situations in which you may want to work for free.
1. Unpaid Internships
Although most internships these days are paid, in some industries/professions, unpaid internships are the norm. Not only are they the norm, but they are often the only way to get on the path to paid work. These are typically in areas where competition is fierce and where there may not be a lot of money available to pay salaries for internships. Unpaid internships are common in the arts.
Before considering an unpaid internship, consider whether or not is the best path to your long-term goals. An unpaid internship working for a prestigious organization may carry a good deal of weight on your resumé and be worth more than a low-paid position at an unknown organization.
2. Connections/Networking
Doing free work can be worthwhile if helps you connect with decision-makers who could turn into paying clients. An example may be doing free work for your local Chamber of Commerce.
3. Exposure
Free work can often provide you with a great way to get exposure.  I have several friends who have built up their entire businesses by just being everywhere by doing free work of various kinds. This kind of free work can come in assorted flavors and can range from guest blog posts to speaking at an event.
This topic is such an important one, I'll be devoting an entire upcoming post to it.
4.  You Have No Work Experience in an Area
You may be all hot and bothered about pursuing a specific career – feeling it is perfect for you – but getting a position doing what you feel you'd excel at and love may not be easy if you have no prior experience. What can you do? Probably once a week, I have someone who offers to work for one of my companies for free in some capacity for anywhere from 30-90 days just to get experience (and hopefully that I'd keep them on once they've proven their worth). It's not a common way to go, but it is a path that some ambitious people follow to short-cut the path to their goals.
Some careers I've seen people pursue this route are for positions of project manager, business development manager, joint venture manager, and various outbound sales positions.
5.  You Want To Get More Practice
In the bestselling book "Outliers: The Story of Success," the author, Malcolm Gladwell claims to the key to success in any field is practicing a specific task for 10,000 hours. I don't believe there's a magic number that applies to every field and I believe that every person is too unique. But I do believe that in order to be at the top of a field involves practice. (Read my post on "How To Excel At Almost Anything You Want.")
It can be difficult to get enough of paid hours of practice in to reach a level of mastery. If you're brand new to an area, getting any paid work may be a challenge.
When considering doing free work for the sake of getting practice, you'll want to make sure that it is work that actually moves you forward and where your own competency level makes it difficult for you to charge for it yet. Let's say for example you are a web designer. You're wanting to add designing WordPress templates to your arsenal of offerings but you've never done one and you are having a hard time finding a paying client. You may want to do one or two for free to get the experience in. Conversely, if you're already a pro at creating WordPress templates, it may not make sense for you to do one for free for others.
Another example is public speaking. It can be almost impossible for a novice speaker to get paid engagements. You won't likely need to speak for 10,000 hours for free in order to get paid, but it's not uncommon to log several dozen unpaid speaking engagements before you land your first paid gig.
6. You May Get an Upside
There have been countless stories in the media about people who did one small thing for a start-up in exchange for equity versus pay and then had a big pay-off day by cashing out or when the company went public.  The odds of this happening are probably a bit better than buying a lottery ticket. But still – if you have time available and it won't take away from paid work, it can be worth it. Just make sure that any potential payback down the road is detailed in writing so there are no misunderstandings somewhere down the road.
7.  Giving To The Community
I strongly believe in giving to the community or world at large in an ongoing program. This could be by donating time/services, donating money or a combination of the two.
Many professionals and entrepreneurs dedicate a set amount of time each week, month or year to giving time to organizations within their community. It makes the most sense to donate time where you are most proficient and to organizations who can most benefit from your assistance.
I think that the organizations we choose to donate time to is too personal a decision for me to consider laying out suggestions. But I do suggest that you lay out your own criteria so at the end of the day, you'll feel positive about your choices.
8. Helping Close Friends and Family
Offering free help to close friends and family can be a tough call. In my "7 Reasons" post, I laid out some of my own issues. Although I don't always say no to all kinds of help with those closest to me, I have my own guidelines I follow. In my "Converting Free to Paid" program, one of the things we'll be doing is formulating personal action plans as far as helping others for free. I'll outline some things to consider here:
You may decide not to do for free for even those close to you any kind of work you charge customers for
You may decide to set criteria before you help people for free (i.e. that they do some homework/legwork themselves)
You may establish a barter policy (i.e. babysitting in exchange for free design work)
Wrapping Up
There are other instances where working for free can make sense for you for various reasons. I've just tried to cover the major situations people are most likely to be dealing with.
If you need more guidance on putting the pieces together, make sure to check out my course "Converting Free to Paid".
Please do share your thoughts on situations where you may work for free in the comments below.
Comments
comments