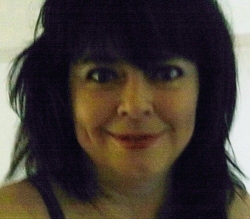 Background
Sharon Hayes is a marketing dynamo and currently serves as the President & CEO of Sling Shot Media, LLC and CEO of Domainate.com. She has worked with organizations of all sizes on strategy and implementation of marketing objectives through social media, community development, e-mail marketing and domain names.
Sharon has worked almost exclusively online since 1991 – predating commercial usage of the Internet.  With a diverse background in all aspects of online marketing, Sharon has provided clients with an integrated approach to the marketing and development of their businesses.
Although Sharon no longer works directly with clients, her companies provide many marketing services. You can review information about her companies' services here.
Current & Upcoming
Sharon is currently working on a number of projects to move her professional life into a new, but related direction. She'll be rolling out many sites and services to provide people with the information, tools and resources to reach their full potential.
SharonHayes.com is the first of these projects. This site will be focused on providing entrepreneurs and professionals with information on how to better run and market their businesses, offer inspirational material and provide information about health and fitness. This site is accompanied by a Facebook community called HayesNet.
Sharon has two books slated for release in 2012. You can read more about them here.
In May, 2012, Sharon will be launching a low-cost group coaching program to help guide entrepreneurs (and those who have the entrepreneurial bug) to working on their businesses strategically for optimal growth.
This will coincide with the first of a number of focused training programs to be offered to the beginning entrepreneur at StartUpRight.com.  The focus of SUR will be to help people with an idea for a business to get it up and running quickly. Rather than learning how to do a million and one things to get a business going online, the service will make everything as hands off as possible for the would-be entrepreneur. This will allow entrepreneurs with expertise in a core area to focus on what they do best.
In early summer, 2012, Sharon will be rolling out a number of educational products under the umbrella,  "Earn More Doing Less."  EMDL will be focused on helping entrepreneurs better structure their businesses so that they find themselves working fewer hours and making more money during the hours they do work.
In late summer, 2012, "Wellness Heaven" will be launched. Experts in the various areas of wellness will be helping visitors learn about leading a more balanced and healthy life.
In early 2013 a beta of UCUB.com ("you see, you be") will commence. This will be an educational social network dedicated to helping individuals find quality information and experts to get their videos, audios and other training material into the hands of qualified students.
Sharon also has several other projects related to the above in various stages – all of which are geared to providing both entrepreneurs and individuals with quality information, tools and resources to reach their full potential.